Use our Volvo VIN Decoder tool to authenticate car specifications and generate an all-encompassing vehicle history report. Uncover intricate details regarding mileage, damages, and other recorded data specific to the car for a comprehensive understanding.
Volvo VIN Lookup: What is a Volvo VIN?
A Volvo VIN, or Vehicle Identification Number, is a unique code assigned to every Volvo vehicle. This alphanumeric code acts as the car's distinct identifier, providing essential information about its manufacturing details, specifications, and history. The Volvo VIN allows you to access valuable insights into a vehicle's background and make informed decisions based on its recorded data.
What does the Volvo VIN Contain?
Here's a list of the information typically contained within a Volvo VIN:
Country of Origin

Manufacturer (Volvo)

Vehicle Type

Vehicle Attributes (model, body style, engine type, etc.)

Check Digit

Model Year

Assembly Plant
Please note that the specific arrangement and interpretation of characters within the VIN may vary slightly depending on the model year and country of production.
Where to find the Volvo VIN?
List of Volvo Models: What works with our VIN decoder?
Volvo XC90

Volvo XC60

Volvo XC40

Volvo S90

Volvo S60

Volvo V90

Volvo V60

Volvo V40

Volvo C70

Volvo C30

Volvo V70

Volvo S80
2006 Toyota Corolla Verso
VIN: NMTER16RX0R073590
Body Style: 4 Doors Minivan
Engine: 1.8L L4 DOHC AWD 
Country of Assembly: Turkey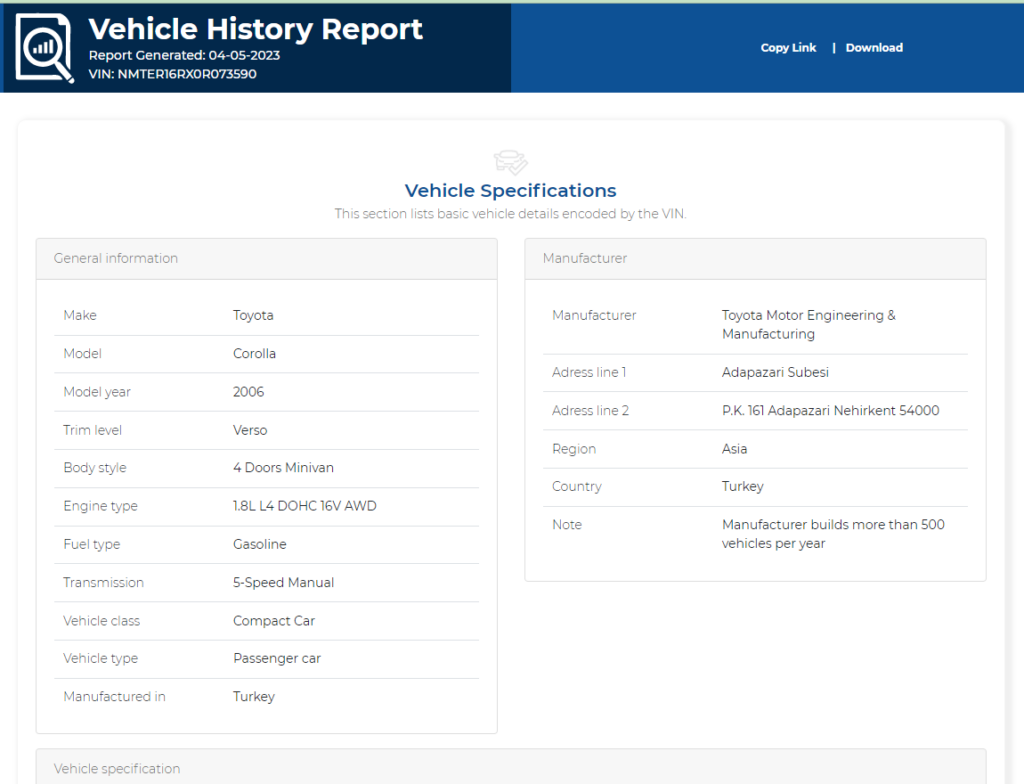 How to Decode a Volvo VIN Number?
Decoding a Volvo VIN number involves breaking down the 17-digit alphanumeric code to extract specific information about the vehicle.Our VIN Decoder tool will help you through the process, and we'll automatically decode any VIN number for you.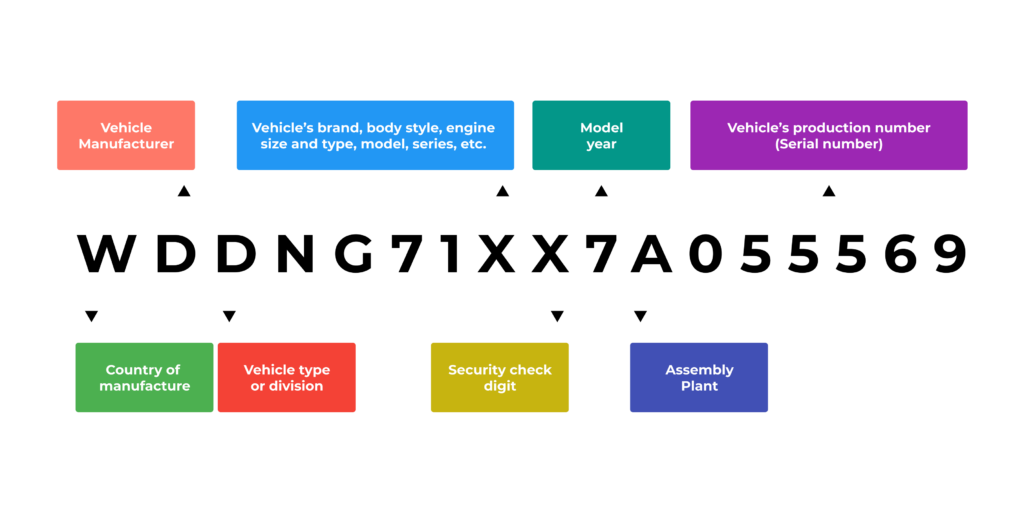 Volvo History Check: What you'll learn with the Volvo VIN?
Performing a Volvo history check using the Volvo VIN can provide you with valuable information about the vehicle's background and history. Here's what you can typically learn by conducting a Volvo history check with the VIN:
Vehicle Specifications: The VIN can reveal specific details about the vehicle, such as the model, trim level, body style, engine type, transmission, and other equipment options.
Production Information: You can obtain information about the manufacturing plant where the vehicle was assembled, including the country and sometimes even the specific assembly facility.
Model Year: The VIN indicates the model year of the vehicle, helping you verify its age and production timeline.
Accident History: By conducting a vehicle history check, you may uncover reported accidents, damages, or insurance claims associated with the vehicle.
Mileage Verification: Some history reports can provide mileage information, allowing you to verify the accuracy of the odometer reading.
Recall Information: The history check may include any reported recalls or safety-related issues associated with the vehicle, helping you ensure that necessary repairs or modifications have been addressed.
Title Information: You can verify the title status of the vehicle, including whether it has a clean title or if it has been salvaged, rebuilt, or declared as a total loss by an insurance company.
More Information on Volvo VIN Decoder
Decode and Get Vehicle History with Volvo VIN Decoder: Access valuable information about your Volvo car by using our free Volvo VIN decoder. Simply enter your Volvo VIN number, and within seconds, you'll receive a comprehensive report that decodes VIN codes and provides details such as product information, engine codes, safety features, and more.
Our user-friendly online platform ensures easy access to accurate and up-to-date information, helping you make informed decisions about maintenance, repairs, and even purchasing a used Volvo. Don't forget, decoding your Volvo VIN also gives you access to a complete vehicle history report, including ownership records, accident history, and salvage titles. Use our Volvo VIN decoder today and keep your Volvo running smoothly with genuine parts and the right specifications
Frequently Asked Questions