Take advantage of the Free Porsche VIN Decoder tool to validate car specifications. Generate a comprehensive vehicle history report that includes detailed information about mileage, damages, and other recorded data pertaining to the car.
Porsche VIN Lookup: What is a Porsche VIN?
A Porsche VIN Lookup is a process of decoding the Vehicle Identification Number (VIN) of a Porsche vehicle to extract detailed information about its manufacturing history and specifications. The Porsche VIN is a unique code composed of 17 alphanumeric characters that acts as a distinctive identifier for each Porsche vehicle. 
By utilizing online databases or contacting Porsche authorized dealers or service centers, individuals can access valuable information such as the vehicle's production date, manufacturing location, engine specifications, model year, optional equipment, and any relevant historical records. 
This allows potential buyers, owners, or enthusiasts to gain a comprehensive understanding of a Porsche vehicle's background and characteristics before making informed decisions or conducting maintenance and repairs.
What does the Porsche VIN Contain?
A Porsche VIN (Vehicle Identification Number) contains important information about a specific Porsche vehicle. Here is a breakdown of what the Porsche VIN typically includes:
World Manufacturer Identifier (WMI): The first three characters represent the manufacturer and country of origin.
Vehicle Descriptor Section (VDS): The fourth to the eighth characters provide information about the vehicle's model, body style, engine type, and other specific details.
Vehicle Identifier Section (VIS): The ninth character is a check digit for verification purposes, while the tenth character represents the model year
Assembly Plant Code: The eleventh character indicates the location where the vehicle was manufactured.
Production Sequence Number: The remaining characters (12 to 17) represent the unique serial number of the vehicle, indicating its production sequence.
By decoding the Porsche VIN, you can gather information such as the model, engine type, manufacturing location, model year, and production sequence, which can be useful for vehicle history checks, maintenance purposes, and obtaining specific vehicle details.
Where to find the Porsche VIN?
List of Porsche Models: What works with our VIN decoder?
Porsche 911

Porsche Cayenne

Porsche Macan

Porsche Panamera

Porsche Boxster

Porsche Cayman

Porsche Taycan

Porsche 718

Porsche 356

Porsche 959

Porsche 944

Porsche 928

Porsche Carrera GT

Porsche 918 Spyder

Porsche 550 Spyder
2006 Toyota Corolla Verso
VIN: NMTER16RX0R073590
Body Style: 4 Doors Minivan
Engine: 1.8L L4 DOHC AWD 
Country of Assembly: Turkey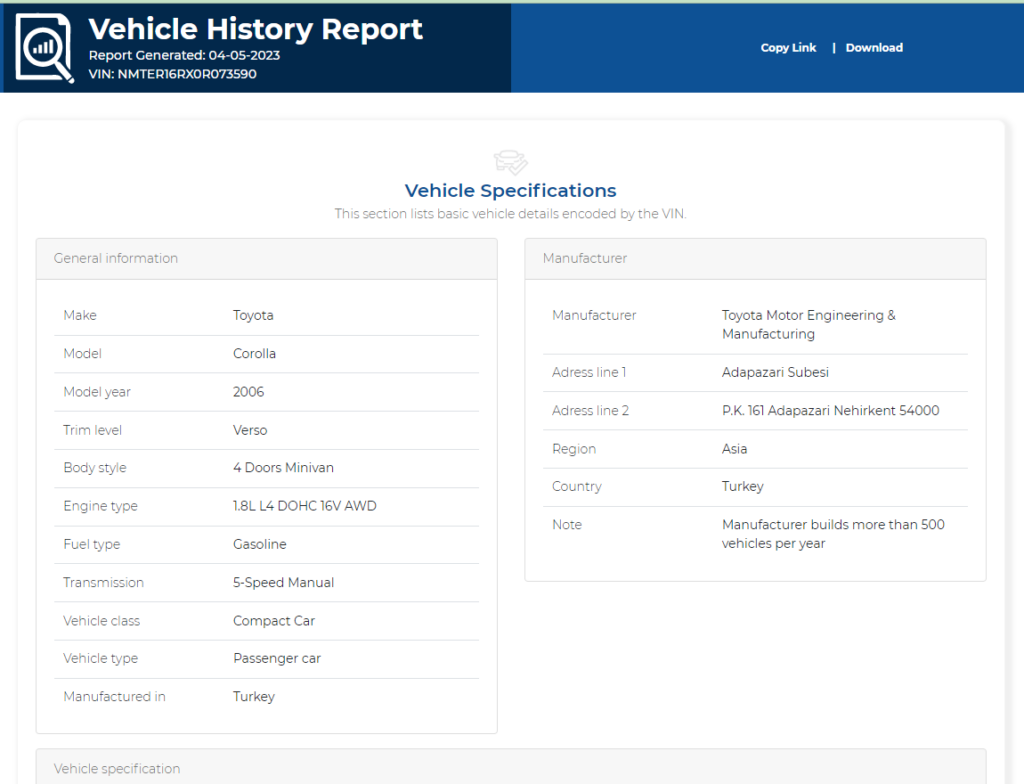 How to Decode a Porsche VIN Number?
Decoding a Porsche VIN number involves breaking down the 17-digit alphanumeric code to extract specific information about the vehicle.Our VIN Decoder tool will help you through the process, and we'll automatically decode any VIN number for you.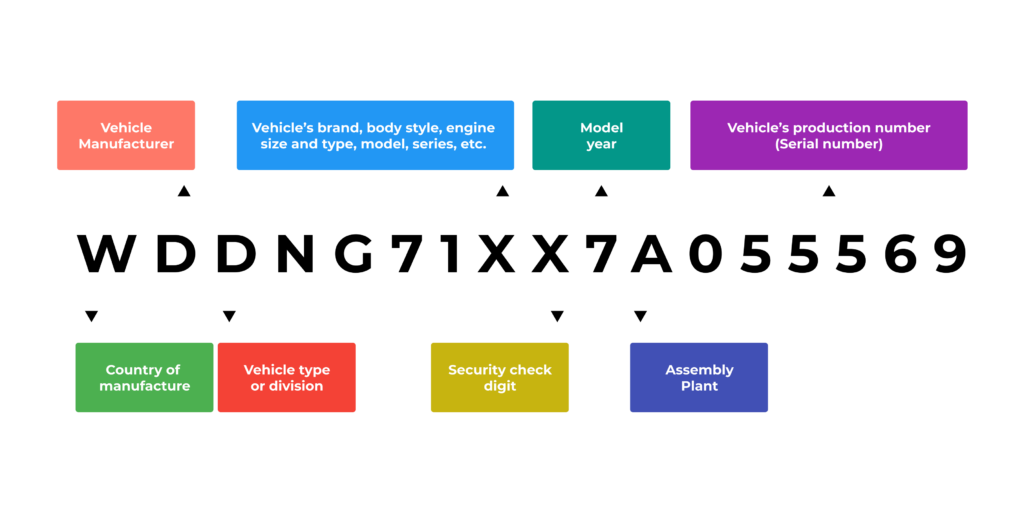 Porsche History Check: What you'll learn with the Porsche VIN?
Performing a Porsche history check using the Vehicle Identification Number (VIN) can provide you with valuable information about the vehicle's background. Here's what you can typically learn with a Porsche VIN:
Manufacturing Details: You can discover the production year, manufacturing plant, and assembly location of the vehicle.
Model and Trim Level: The VIN allows you to identify the specific model and trim level of the Porsche, such as 911 Carrera or Cayenne S, providing insights into its features and specifications.
Mileage Verification: The VIN can be used to verify the recorded mileage of the vehicle, ensuring accuracy and detecting any discrepancies.
Recall Information: You can determine if any recalls or safety-related campaigns have been issued for the specific Porsche model, allowing you to address any outstanding concerns.
Title and Registration Information: The history check may provide details about the title status, registration history, and if there are any liens or loans associated with the vehicle.
Decode Your Porsche Vehicle's VIN Number for Free: Obtain detailed information about your Porsche car, including its model, production year, engine specs, and more, using our accurate and reliable Porsche VIN decoder. Since 1981, our constantly updated database enables you to access a comprehensive vehicle history report, revealing any accidents, ownership history, and maintenance records. Find authentic Porsche parts and accessories by identifying the correct part numbers and specifications based on your vehicle's VIN. Discover the unique features and options that make your Porsche special, and gain valuable insights before buying a used Porsche. Trust our decoder to provide you with the most accurate and up-to-date information about your beloved Porsche car.