Our Citroën VIN Decoder tool ensures the accuracy of car specifications. Obtain a comprehensive vehicle history report that provides detailed insights into mileage, damages, and other recorded data specifically related to the car.
Citroën VIN Lookup: What is a Citroën VIN?
A Citroën VIN is a unique code assigned to each Citroën vehicle, serving as a digital fingerprint that identifies important information about the car's specifications, manufacturing details, and history. The VIN typically consists of 17 alphanumeric characters and is located on the vehicle's chassis or in the documents associated with it. Decoding used Citroen VIN numbers can help you verify odometer readings through detailed vehicle history, check citroën VIN number and get vehicle history.
By performing a Citroën VIN lookup using online tools or the official Citroën VIN decoder, individuals can access valuable data such as the car's model, engine type, production year, country of origin, and additional optional features. This information is helpful for verifying the authenticity of a vehicle, understanding its specifications, and obtaining a comprehensive vehicle history report to assess its past records, damages, and more.
What does the Citroën VIN Contain?
The Citroën VIN typically contains the following information:
World manufacturer identifier (WMI): The first three characters represent the manufacturer and country of origin.

Vehicle descriptor section (VDS): Characters 4 to 9 provide details about the vehicle's model, body type, engine, and transmission.

Vehicle identifier section (VIS): Characters 10 to 17 represent the unique serial number of the vehicle.

Production year: The 10th character indicates the production year (e.g., A for 1980, B for 1981, and so on).

Manufacturing plant code: Characters 11 to 12 signify the manufacturing plant where the vehicle was built.

Sequential production number: Characters 13 to 17 represent the specific sequence number of the vehicle in production.
Where to find the Citroën VIN?
List of Citroën Models: What works with our VIN decoder?
Citroën C3

Citroën C4

Citroën C5 Aircross

Citroën C3 Aircross

Citroën Berlingo

Citroën Grand C4 SpaceTourer

Citroën C1

Citroën C4 Cactus

Citroën C3 Picasso

Citroën DS3

Citroën DS4

Citroën DS5

Citroën C-Elysée

Citroën Jumpy

Citroën Spacetourer
2006 Toyota Corolla Verso
VIN: NMTER16RX0R073590
Body Style: 4 Doors Minivan
Engine: 1.8L L4 DOHC AWD 
Country of Assembly: Turkey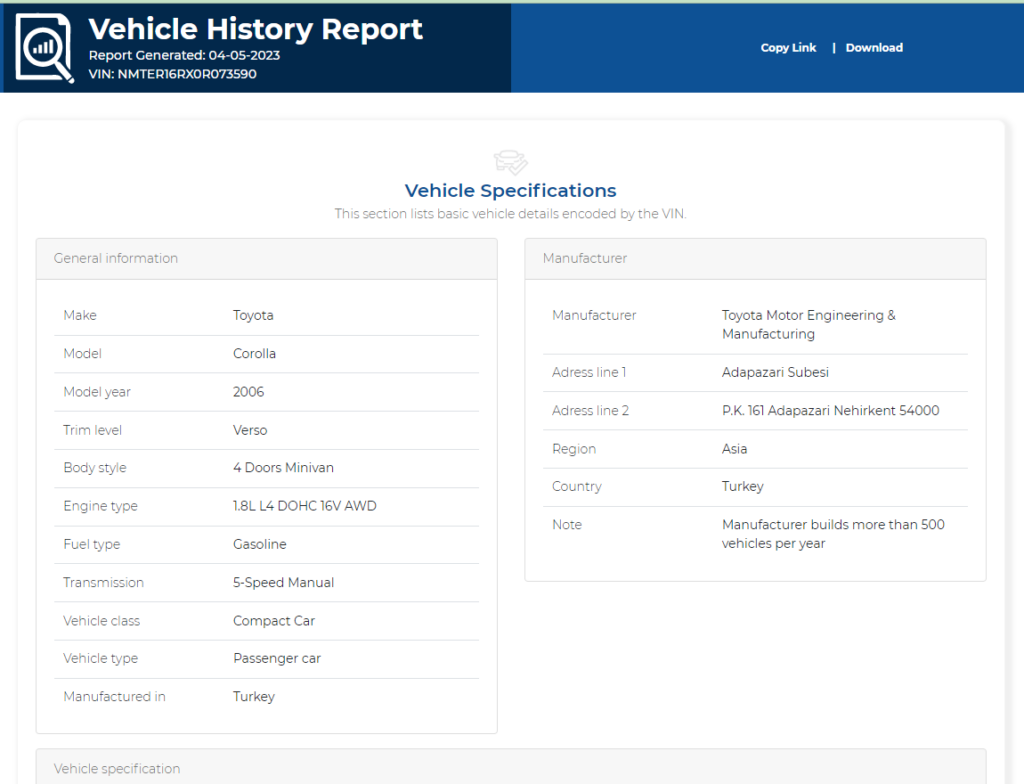 The Citroën VIN Decoder: How To Decode a VIN
Decoding a Citroën VIN number involves breaking down the 17-digit alphanumeric code to extract specific information about the vehicle.Our VIN Decoder tool will help you through the process, and we'll automatically decode any VIN number for you.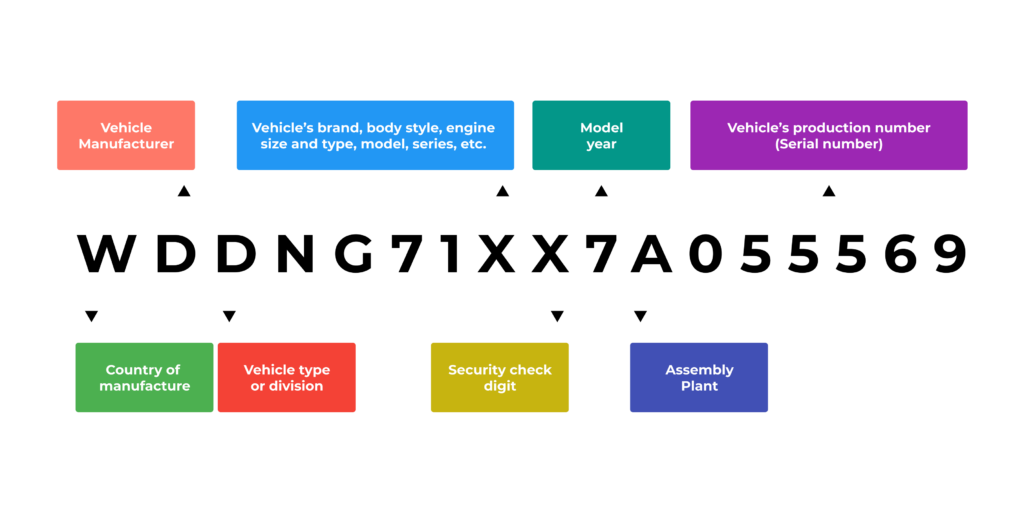 Citroën History Check: What you'll learn with the Citroën VIN?
Performing a Citroën history check using the VIN (Vehicle Identification Number) can provide you with valuable information about the vehicle's past. Here's what you can learn with a Citroën VIN:
Vehicle specifications: The Citroën VIN can reveal details such as the model, trim level, engine type, transmission, and other specific features of the vehicle.
Production information: You can gather information about the manufacturing plant where the vehicle was produced and the production year.
Mileage verification: A Citroën VIN lookup can help verify the accuracy of the recorded mileage by comparing it with available service records and historical data.
Title information: The history check may provide details about the vehicle's title, including any salvaged or rebuilt titles, title brands (such as flood damage or lemon law buyback), and whether the vehicle has a clear title.
Maintenance and service records: Depending on the availability of data, you may find records of routine maintenance, repairs, and service performed on the vehicle.
It's important to note that the extent and availability of information may vary depending on the source and the region, as well as the completeness of the vehicle's history.