Make use of the Alfa Romeo VIN Decoder tool to authenticate the car's specifications. Obtain a comprehensive vehicle history report encompassing detailed information regarding mileage, damages, and other recorded data specific to the car.
Alfa Romeo VIN Lookup: What is an Alfa Romeo VIN?
The Alfa Romeo Vehicle Identification Number (VIN) is a unique 17-character alphanumeric code assigned to every Alfa Romeo vehicle. This code serves as a specific identifier for the vehicle and contains crucial information about its specifications, manufacturing details, and history. 
Each character in the Alfa Romeo VIN represents particular information such as the manufacturer, vehicle type, engine type, model year, and production plant. Conducting an Alfa Romeo VIN lookup allows individuals to access valuable information about a specific vehicle, including its authenticity, production details, reported accidents or recalls, ownership history, service records, and more. 
This service is invaluable for potential buyers, enthusiasts, and owners seeking to authenticate or gain knowledge about an Alfa Romeo's history.
What does the Alfa Romeo VIN Contain?
The Alfa Romeo VIN (Vehicle Identification Number) is a 17-character alphanumeric code that contains specific information about an Alfa Romeo vehicle. Here is a breakdown of what each character in the VIN represents:
Country of Origin: The first character represents the country where the vehicle was manufactured. For Alfa Romeo, it is usually "Z" to indicate Italy.
Manufacturer Identifier: The second character identifies the manufacturer. For Alfa Romeo, it is typically "ZAR."
Vehicle Type: The third character indicates the vehicle type. For example, "F" represents a passenger car.
Vehicle Attributes: The fourth to eighth characters provide information about the vehicle's attributes, such as the model, engine type, and series.
Check Digit: The ninth character is a mathematical formula-generated digit used for verifying the accuracy of the VIN.
Model Year: The tenth character represents the model year of the vehicle. It can be a letter or a number.
Assembly Plant: The eleventh character indicates the assembly plant where the vehicle was manufactured.
Production Sequence: The twelfth to seventeenth characters represent the production sequence number, which is a unique identifier for each vehicle.
Where to find the Alfa Romeo VIN Lookup VIN?
List of Alfa Romeo Models: What works with our VIN decoder?
Alfa Romeo Giulia

Alfa Romeo Stelvio

Alfa Romeo 4C

Alfa Romeo Giulietta

Alfa Romeo Giulietta Sprint

Alfa Romeo Giulietta Quadrifoglio Verde

Alfa Romeo 8C Competizione

Alfa Romeo 8C Spider

Alfa Romeo Brera

Alfa Romeo GTV

Alfa Romeo Spider

Alfa Romeo 159

Alfa Romeo 156

Alfa Romeo 147

Alfa Romeo MiTo

Alfa Romeo SZ

Alfa Romeo RZ

Alfa Romeo Montreal

Alfa Romeo GT

Alfa Romeo 166
2006 Toyota Corolla Verso
VIN: NMTER16RX0R073590
Body Style: 4 Doors Minivan
Engine: 1.8L L4 DOHC AWD 
Country of Assembly: Turkey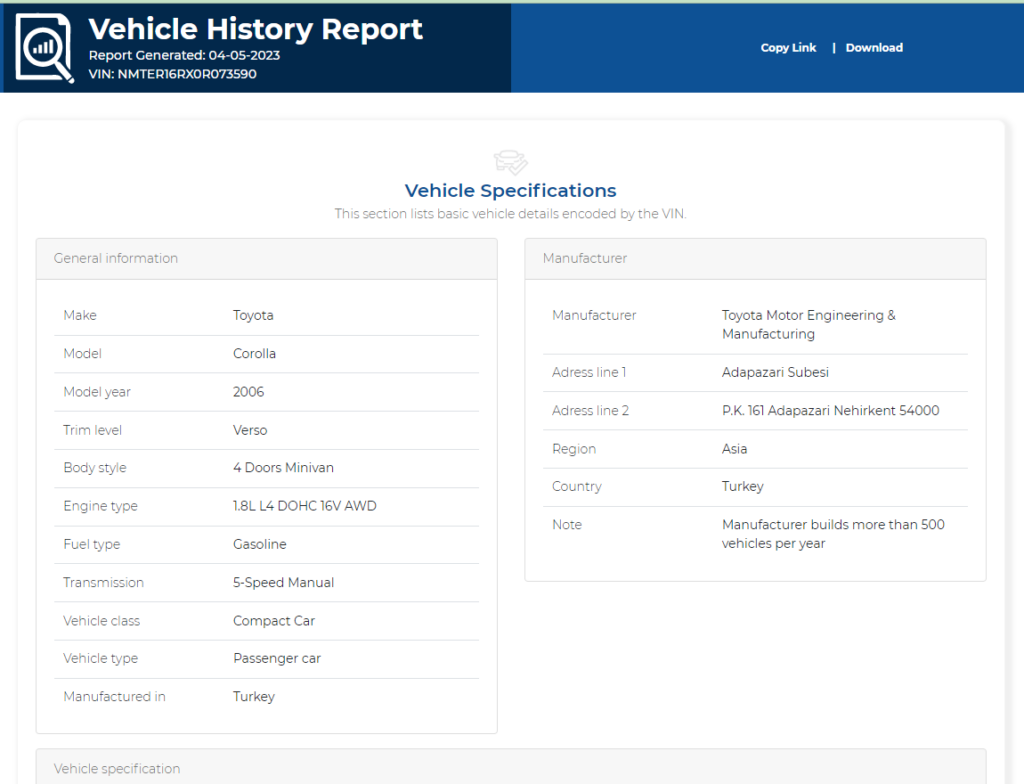 How to Decode a Alfa Romeo Models VIN Number?
Decoding a Alfa Romeo Models VIN number involves breaking down the 17-digit alphanumeric code to extract specific information about the vehicle.Our VIN Decoder tool will help you through the process, and we'll automatically decode any VIN number for you.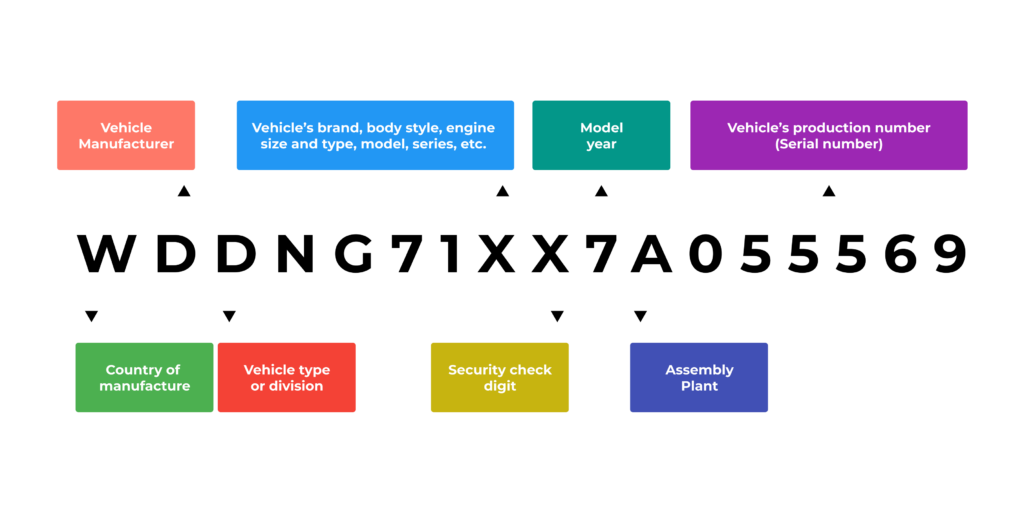 Alfa Romeo History Check: What you'll learn with the Alfa Romeo VIN?
Performing a history check on an Alfa Romeo using the vehicle's VIN can provide valuable insights into the vehicle's past. Here are the key details you can learn from an Alfa Romeo VIN history check:
Vehicle Specifications: Access detailed information about the vehicle's specifications, including model, engine type, transmission, trim level, and features. This helps verify advertised specifications.
Manufacturing Details: Discover the production year, manufacturing plant, and assembly sequence to establish authenticity and provenance.
Title and Registration Information: Verify the title status, registration details, and any recorded liens or encumbrances to ensure a clear title.
Accident History: Reported accidents, collision repairs, or damage incidents, including details about the severity of the accidents and repairs performed.
Recalls and Safety Issues: Discover any open recalls or safety-related issues associated with the specific Alfa Romeo model, ensuring necessary repairs or modifications have been addressed.
The "Alfa Romeo VIN Decoder" page, is your ultimate resource for decoding and uncovering vital information about your Alfa Romeo vehicle. Our comprehensive VIN decoder tool allows you to look up and check the VIN number of your Alfa Romeo, providing you with valuable insights into its history, specifications, and more. Whether you're interested in checking the vehicle's history, getting detailed specifications, or even accessing recall information, our free VIN decoder is here to assist you. Simply enter the VIN number of your Alfa Romeo, which is typically located on the driver's side dashboard or doorjamb, and our online database will provide you with a wealth of information about your vehicle. From market value and production sequence number to accident history and safety ratings, our Alfa Romeo VIN decoder empowers you with the knowledge you need to make informed decisions. Discover the true potential of your Alfa Romeo today by decoding its VIN number with our user-friendly tool.
Frequently Asked Questions