Take advantage of the Free Volkswagen VIN Decoder tool to validate car specifications. Generate a comprehensive vehicle history report that includes detailed information about mileage, damages, and other recorded data pertaining to the car.
Volkswagen VIN Lookup: What is a Volkswagen VIN?
The Volkswagen VIN (Vehicle Identification Number) is a unique 17-digit code assigned to each Volkswagen vehicle. It serves as a digital fingerprint, containing vital information about the vehicle's manufacturing origin, specifications, and history.
Founded in 1937, the Volkswagen VIN is a gateway to understanding the vehicle's identity and background. By conducting a Volkswagen VIN lookup, individuals can decode the VIN and gain access to details such as the vehicle's model, engine type, trim level, production year, manufacturing plant, ownership history, accident records, service history, and more. This powerful tool fosters transparency and empowers individuals to make well-informed decisions when purchasing or researching a Volkswagen vehicle.
What does the Volkswagen VIN Contain?
The Vehicle Identification Number (VIN) for Volkswagen vehicles contains a wealth of information about the specific car. The VIN is a unique code composed of 17 alphanumeric characters and is assigned to each vehicle by the manufacturer. When decoding a Volkswagen VIN, several important details can be determined. 
The first three characters indicate the world manufacturer identifier, which identifies the country and manufacturer. The following five characters provide information about the vehicle's model, body style, and engine type. 
The ninth character is a check digit that verifies the accuracy of the VIN. Characters 10 to 17 represent the vehicle's unique serial number, providing individual identification. 
Additionally, the VIN can reveal information about the vehicle's production year, assembly plant, and optional equipment or trim levels. Overall, the Volkswagen VIN is a valuable tool for understanding the specifics of a vehicle's manufacturing and features.
Where to find the Volkswagen VIN?
List of Volkswagen Models: What works with our VIN decoder?
Volkswagen Golf

Volkswagen Jetta

Volkswagen Passat

Volkswagen Tiguan

Volkswagen Atlas

Volkswagen Beetle

Volkswagen Polo

Volkswagen Touareg

Volkswagen Arteon

Volkswagen ID.4 (Electric)

Volkswagen Golf GTI

Volkswagen Golf R

Volkswagen Tiguan Allspace

Volkswagen Amarok (Pickup Truck)

Volkswagen Up!

Volkswagen T-Roc

Volkswagen Scirocco

Volkswagen Caddy
2006 Toyota Corolla Verso
VIN: NMTER16RX0R073590
Body Style: 4 Doors Minivan
Engine: 1.8L L4 DOHC AWD 
Country of Assembly: Turkey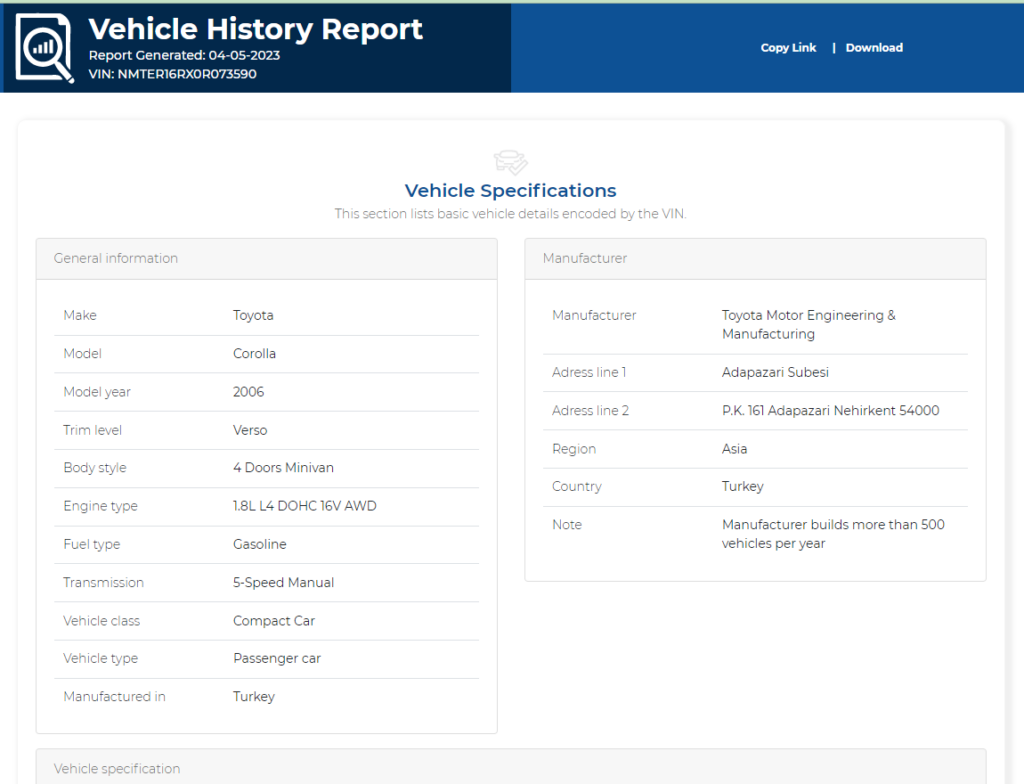 How to Decode a Volkswagen VIN Number?
Decoding a Volkswagen VIN number involves breaking down the 17-digit alphanumeric code to extract specific information about the vehicle.Our VIN Decoder tool will help you through the process, and we'll automatically decode any VIN number for you.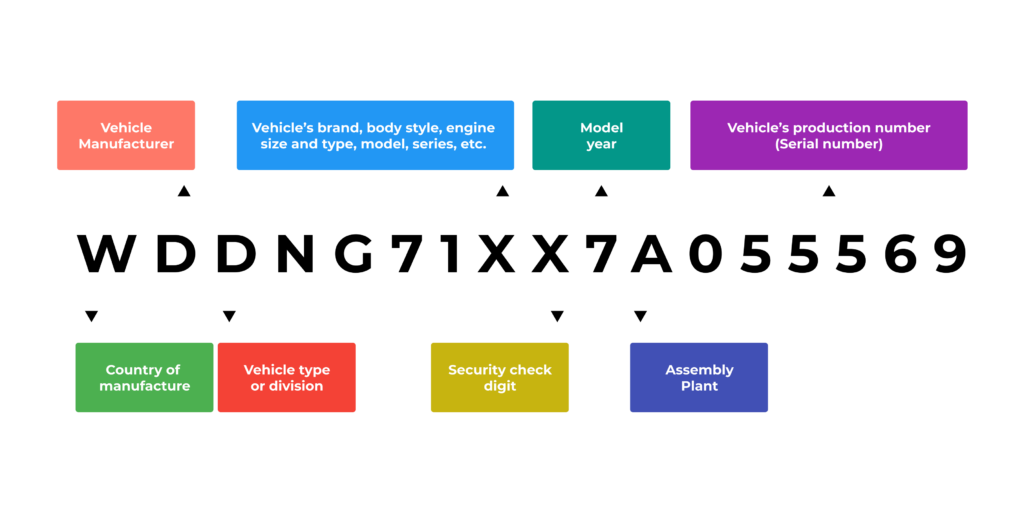 VW History Check: What you'll learn with the Volkswagen VIN?
Performing a Volkswagen history check using the Vehicle Identification Number (VIN) can provide valuable insights into a vehicle's background. By conducting a VIN check, you can access various details about Volkswagen's history. Some of the key information you can learn includes:

Vehicle Specifications: The VIN can provide detailed information about the vehicle's specifications, including the engine type, transmission, trim level, and optional equipment installed, allowing you to ensure that the advertised features match the actual vehicle.

Ownership History: The VIN can reveal the number of previous owners the vehicle has had, helping you assess its usage and potential wear and tear.

Title Information: The VIN can disclose the title status of the vehicle, including whether it has a clean title, salvage title, or has been reported as stolen or rebuilt.

Recall Information: The VIN can help you identify any open recalls on the vehicle, ensuring that any necessary repairs or replacements have been completed to address safety or performance issues.

Mileage Verification: The VIN check can verify the accuracy of the reported mileage on the vehicle, giving you confidence in the odometer reading and helping you detect any potential odometer tampering.

 
Additional Information Volkswagen VIN Decoding
If you are on this page then you must be interested in learning more about your Volkswagen car. Do you want to decode your vehicle identification number (VIN) and uncover valuable information about its history and specifications? Look no further! Our Volkswagen VIN Decoder is here to assist you in unraveling the mysteries hidden within your Volkswagen.
Europe, the birthplace of Volkswagen, has a rich automotive history, and with our decoder, you can delve into the details of your European Volkswagen. By utilizing the World Manufacturer Identifier (WMI) within your VIN, our decoder will provide you with precise information about your Volkswagen's origin and production details.
Curious about the condition of your Volkswagen? Our free VIN decoder allows you to assess the condition of any Volkswagen car by analyzing the VIN codes. Simply enter your VIN, and our decoder will provide you with a comprehensive report detailing the technical specifications, including the vehicle descriptor section, of your Volkswagen.
Whether you are in the market for a used Volkswagen or are a proud owner looking to gather more information about your car, our Volkswagen VIN Decoder is an invaluable tool. By exploring the full vehicle history, you can make an informed decision when buying a used Volkswagen. Uncover details about previous owners, maintenance records, accidents, and more.
As a trusted car manufacturer, Volkswagen ensures that every Volkswagen vehicle meets the highest standards of quality and performance. With our VIN Decoder API, you can integrate our decoding functionality into your own platform or website, providing users with quick access to essential Volkswagen information.
For car buyers and insurance companies alike, our Volkswagen VIN Decoder simplifies the process of researching and assessing Volkswagen vehicles. From compact cars to SUVs, Volkswagen offers a diverse range of models to suit every preference. Discover the specifications, features, and sales information for any Volkswagen model through our user-friendly decoder.
When it comes to buying a used Volkswagen, knowledge is power. By using our Volkswagen VIN Decoder, you can make well-informed decisions and ensure that your chosen vehicle aligns with your expectations. Whether you're looking for a reliable daily driver or a stylish family car, our decoder arms you with the necessary information to make the best choice.
Don't let the complexities of VIN codes and technical jargon overwhelm you. Our Volkswagen VIN Decoder simplifies the process, providing a seamless experience for users worldwide. Whether you're in Europe or any other part of the world, our decoder is tailored to provide accurate information for Volkswagen vehicles across the globe.
Unlock the secrets of your Volkswagen with our Volkswagen VIN Decoder. Take advantage of this valuable tool to explore the fascinating history, specifications, and condition of every Volkswagen car. Empower yourself as a Volkswagen owner or prospective buyer and make informed decisions with ease. Try our Volkswagen VIN Decoder today!
Frequently Asked Questions
A Volkswagen VIN decoder is a tool or software that can interpret the Vehicle Identification Number (VIN) of a Volkswagen vehicle and provide detailed information about its manufacturing, specifications, and history.
Using a Volkswagen VIN decoder is typically straightforward. You input the 17-character VIN of the Volkswagen vehicle into the decoder, and it will analyze the code to extract information about the vehicle's model, production year, assembly plant, engine type, trim level, optional equipment, and more.
Volkswagen VIN decoders rely on official databases and records to provide accurate information. However, the accuracy ultimately depends on the quality and reliability of the decoder used. It's recommended to use trusted and reputable sources for accurate results.