Take advantage of the Free Audi VIN Decoder tool to validate car specifications. Get access to any vehicle's year, make, model, trim, engine and more details. Generate a comprehensive vehicle history report that includes detailed information about mileage, damages, and other recorded data pertaining to the car.
Audi VIN Check: What is an Audi VIN?
An Audi VIN is a Vehicle Identification Number, a unique alphanumeric code that serves as the fingerprint of an Audi vehicle. This 17-digit sequence of characters provides valuable information about the car's origins, specifications, and history. 
By utilizing an Audi VIN Check, individuals can uncover essential details about any Audi car such as the country of origin, manufacturer, model, engine type, body style, and even historical data such as mileage, maintenance records, accident history and more. 
The Audi VIN Lookup acts as a powerful tool for buyers, dealerships, vehicle enthusiasts, and researchers, offering a comprehensive understanding of Audi's identity and allowing for informed decision-making and appreciation of the vehicle's legacy.
What does the Audi VIN contain?
The Audi VIN, or Vehicle Identification Number, is a 17-digit code that holds a wealth of information about an Audi vehicle. Each character within the VIN serves a specific purpose, providing valuable details about the car's manufacture, specifications, and history. Here's a breakdown of what the Audi VIN typically contains:
World Manufacturer Identifier (WMI): The first three characters identify the country of origin and the manufacturer.
Vehicle Descriptor Section (VDS): The next five characters provide information about the model, engine type, and body style of the Audi.
Vehicle Identifier Section (VIS): The following eight characters represent the unique serial number of the vehicle, including the production sequence and specific features.
Check Digit: The ninth character is a mathematical calculation that ensures the accuracy of the VIN.
Model Year: The tenth character indicates the model year of the Audi.
Assembly Plant: The eleventh character identifies the manufacturing plant where the Audi was built.
Production Sequence: The remaining six characters represent the production sequence number of the vehicle.
By decoding the Audi VIN, enthusiasts, buyers, dealers and researchers can uncover crucial information about any car, including its manufacturing details, specifications, and even its historical records. This includes data like mileage, maintenance history, accident reports, and ownership changes, providing a comprehensive understanding of the vehicle's identity and background. The Audi VIN is a powerful tool that allows individuals to make informed decisions, verify the authenticity of the vehicle, and appreciate the unique characteristics of each Audi on the road.
Where to find the Audi VIN?
List of Audi Models that work with our VIN decoder
Audi A3

Audi A4

Audi A5

Audi A6

Audi A7

Audi A8

Audi Q3

Audi Q5

Audi Q7

Audi Q8

Audi RS3

Audi RS4

Audi RS5

Audi RS6

Audi RS7

Audi TT

Audi R8

Audi e-tron
2006 Toyota Corolla Verso
VIN: NMTER16RX0R073590
Body Style: 4 Doors Minivan
Engine: 1.8L L4 DOHC AWD 
Country of Assembly: Turkey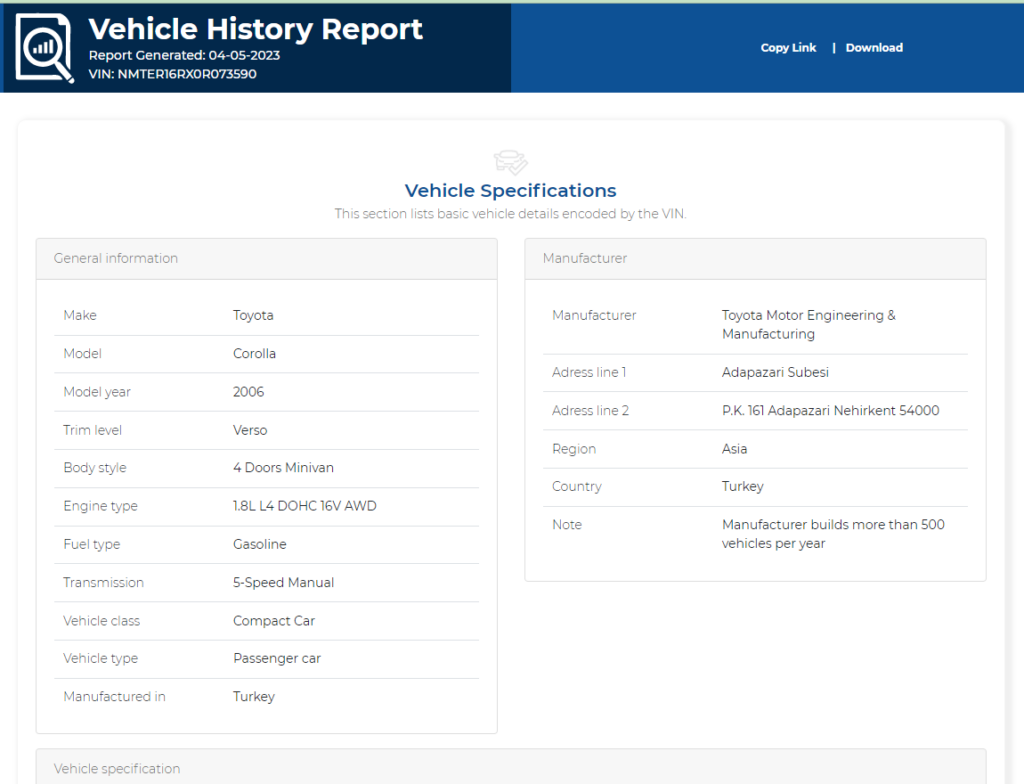 How to Decode a Audi VIN Number?
Decoding a Audi VIN number involves breaking down the 17-digit alphanumeric code to extract specific information about the vehicle.Our VIN Decoder tool will help you through the process, and we'll automatically decode any VIN number for you.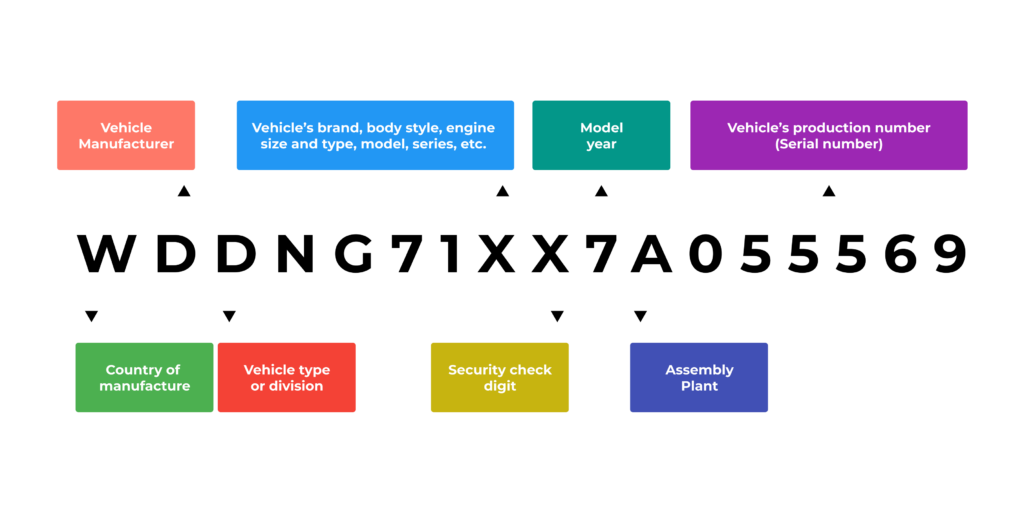 Audi History Check: What will you learn with the Audi VIN?
Performing an Audi history check using the VIN (Vehicle Identification Number) provides valuable insights into the vehicle's past and helps you make informed decisions. Here's what you can learn by conducting an Audi VIN check:
Vehicle Specifications: The VIN reveals essential details about the Audi's specifications, including the model, trim level, engine type, transmission, and body style. This information ensures that the vehicle matches its advertised specifications.
Manufacturing Details: The VIN provides insights into the manufacturing details of the Audi, such as the production plant, production year, and production sequence number. This information helps authenticate the vehicle's origin and production timeline.
Accident History: An Audi VIN check may reveal any reported accidents or damage. This includes information about major collisions, repairs, or insurance claims filed for the vehicle. Knowing the accident history can help assess the vehicle's condition and potential issues.
Mileage Verification: The VIN check may provide data regarding the recorded mileage at various points in the vehicle's history. Verifying the mileage helps ensure that the advertised mileage is accurate and can reveal any potential discrepancies or odometer rollbacks.
Title and Lien Information: The VIN check may uncover the vehicle's title status, including any title brands or salvage records. It can also reveal if there are any outstanding liens or loans against the vehicle, which could impact its ownership and transferability.
Auction Info: By checking an Audi's history, you can get insights into Audi's auction history, including details such as previous auction dates, auction house names, auction images, price of the bid, status of the auction and more. This information can be valuable in understanding Audi's previous ownership, potential usage patterns, and market value. However, it's important to interpret auction information in conjunction with other aspects of the vehicle's history to gain a comprehensive understanding
By conducting an Audi history check using the VIN, you can gather comprehensive information about the vehicle's specifications, manufacturing details, ownership history, accident records, mileage verification, title status, and service records. This knowledge empowers you to make informed decisions when purchasing a used Audi and provides a better understanding of the vehicle's background and condition.
Decode Your Audi Vehicle's VIN Number for Free: Welcome to our Audi VIN Decoder page, where you can easily check and decode your Audi's VIN to obtain detailed information about your vehicle. Our lookup tool provides access to a comprehensive database, allowing you to check the spec, history, and other important details of your Audi car. Whether you want to find your VIN number, get a vehicle history report, or check the validity of the VIN, our decoder is here to assist you. Using our Audi VIN decoder, you can enter your Audi's VIN number and access a full vehicle history report that includes information about accidents, mileage, damage records, and more. Our free VIN decoder API provides accurate and reliable data, enabling you to make informed decisions when buying a used Audi. We understand that obtaining detailed information about your Audi is the first step towards ensuring transparency and peace of mind.
Don't hesitate to use our free VIN decoder tool to decode your Audi's VIN number and obtain essential information about your vehicle. With every Audi, you can trust the quality and performance of a luxury automobile brand that has a rich history dating back to 1910. The four interlocking rings of the Audi logo represent the merge of four car companies – Audi, DKW, Horch, and Wanderer – which later formed Auto Union in 1932. Today, Audi is part of the Volkswagen Group and continues to offer globally recognized vehicles known for their engineering excellence and distinctive characteristics. Please note that all trademarks mentioned on this page are the property of their respective owners. We aim to provide you with detailed and accurate information about your Audi vehicle, including specifications, engine details, transmission, and more. Our VIN decoder tool is designed to assist Audi owners and buyers in accessing essential vehicle information.
Frequently Asked Questions