Use our  Saab VIN Decoder tool to verify car specifications and access a comprehensive vehicle history report. Obtain detailed information regarding mileage, damages, and other recorded data associated with the vehicle.
Saab VIN Lookup: What is a Saab VIN?
A Saab VIN is an exclusive 17-character code assigned to every Saab vehicle. Conducting a Saab VIN lookup allows individuals to gather essential details about the vehicle, such as manufacturing specifics, specifications, ownership history, accident records, mileage verification, and more. This information empowers potential buyers and owners to make well-informed decisions based on the vehicle's background.
What does the Saab VIN Contain?
The Saab VIN (Vehicle Identification Number) contains information about a specific Saab vehicle. Here's a list of the information typically contained within a Saab VIN:
Country of Origin: The VIN indicates the country in which the vehicle was manufactured.

Manufacturer: The VIN identifies Saab as the vehicle manufacturer.

Vehicle Type: The VIN includes a character representing the vehicle type or manufacturing division.

Vehicle Attributes: Characters 4-8 provide specific details about the vehicle's model, body style, engine type, and other attributes.

Check Digit: The ninth character is a mathematical calculation used to verify the accuracy of the VIN.

Model Year: The tenth character represents the model year of the vehicle, usually a letter or number.

Assembly Plant: Characters 11-17 indicate the specific assembly plant where the vehicle was manufactured.
Please note that the specific arrangement and interpretation of characters within the VIN may vary slightly depending on the model year and country of production.
Where to find the Saab VIN?
List of Saab Models that work with our VIN decoder
Saab 93

Saab 95

Saab 96

Saab 97

Saab 99

Saab Sonett

Saab 90

Saab 900

Saab 9000

Saab 9-2X

Saab 9-3

Saab 9-4X

Saab 9-5

Saab 9-7X
2006 Toyota Corolla Verso
VIN: NMTER16RX0R073590
Body Style: 4 Doors Minivan
Engine: 1.8L L4 DOHC AWD 
Country of Assembly: Turkey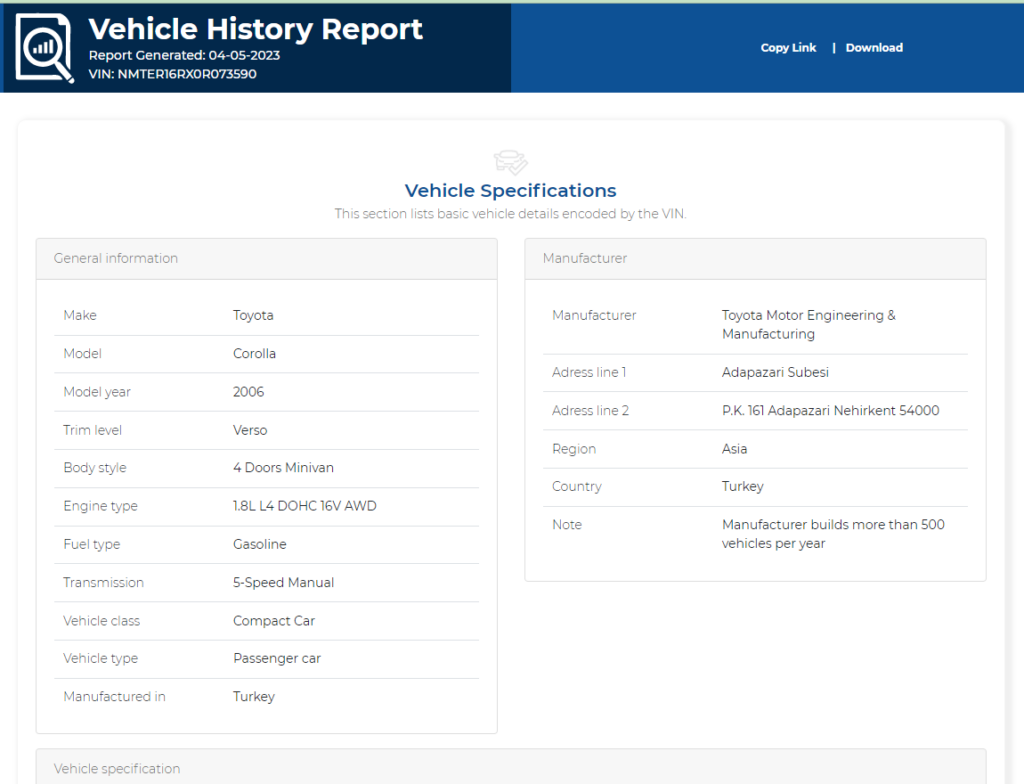 Saab VIN Decoder: How to Decoder a VIN
Decoding a BMW VIN number involves breaking down the 17-digit alphanumeric code to extract specific information about the vehicle.Our VIN Decoder tool will help you through the process, and we'll automatically decode any VIN number for you.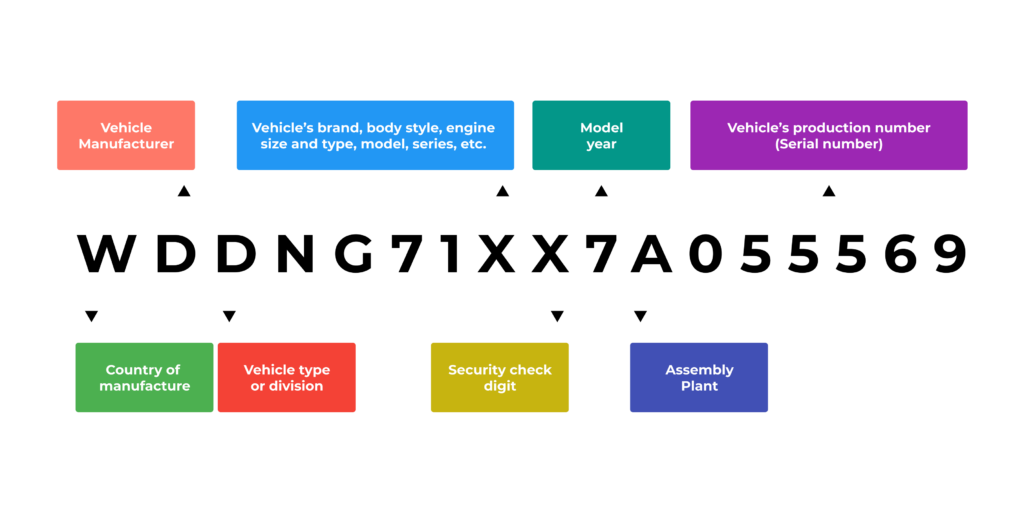 Saab History Check: What you'll learn with the Saab VIN?
Performing a Saab history check using the Saab VIN can provide you with valuable information about the vehicle's background and history. Here's what you can typically learn by conducting a Saab history check with the VIN:
Vehicle Specifications

Production Information

Model Year

Ownership History

Accident History

Mileage Verification

Recall Information

Title Information
It's important to note that the availability and extent of information provided in a Saab history check may vary depending on the service or provider you use. It's advisable to choose a reputable and comprehensive vehicle history check service to obtain the most accurate and detailed information about the vehicle's history.
 Saab VIN Decoder In A Nutshell
A Saab VIN decoder may not directly verify if a vehicle has been in an accident. However, some decoding services may provide accident history or reported damages associated with the vehicle if such information is available in their database or reports.
Are you looking to get detailed information about your Saab vehicle? Use our Saab VIN decoder to check your car's history and get valuable insights.
Using a unique identifier called the Vehicle Identification Number (VIN), our Saab VIN decoder allows you to decode and read important information about your vehicle. Whether you want to know the production year, model, engine details, maintenance history, or ownership records, our VIN decoder can provide you with the information you need.
Simply enter your Saab VIN number into our online tool, and within seconds, you'll receive a comprehensive report that includes valuable data about your vehicle's past. Our Saab VIN decoder is easy to use and provides an in-depth overview of your car's history.
Why should you check your Saab VIN number? By obtaining a vehicle history report, you can uncover crucial details that may impact your decision to buy a used Saab. You can identify any potential issues such as previous accidents, theft records, mileage discrepancies, and more. Knowing the complete history of a Saab car can help you make an informed buying decision and ensure you're getting a reliable vehicle.
Our Saab VIN decoder covers Saab models from 1950 to 2014, so no matter which Saab car you own or are interested in, our tool can provide the necessary information. We understand the importance of maintaining your Saab, and our VIN decoder can assist you in keeping up with service and maintenance schedules.
Don't forget, the VIN number contains essential codes that can be used by your mechanic or Saab service center to identify the right parts and perform accurate maintenance. It's an easily accessible piece of information that every Saab owner should know.
The Saab VIN decoder is a free service provided by us. We believe that vehicle information should be accessible to everyone, and our online platform ensures that you can access it conveniently. Safeguarding your Saab car's history and ownership details is crucial, and our Saab VIN decoder helps you do just that.
Use our Saab VIN decoder today to get the complete vehicle history report and know everything you need about your Saab car. With our tool, you can easily locate and keep track of important information that will help you maintain and enjoy your Saab to the fullest.
With a Saab VIN decoder, you can typically obtain information such as the vehicle's model, trim level, body style, engine type, transmission, production year, assembly plant, and sometimes additional options and equipment. Some decoders may also provide limited ownership history, accident reports, recall information, and title status.
Saab VIN decoders can generally decode VINs across various Saab models and years. However, it's important to note that certain decoders may have limitations or may be more accurate for specific model years or regions. It's recommended to use a decoder that covers the desired model year range or consult multiple sources for the most accurate results.
Saab VIN decoders generally rely on accurate data sources and databases, but there can be occasional discrepancies or missing information. It's advisable to use reputable and reliable VIN decoding services that have access to comprehensive databases and data sources.